In the past 2 years as a digital nomad with a lot of work to do and no energy to go drinking on all-nighters, I've seen myself gradually changing from pubs to cafes. As I usually live in hostels and I keep seeing the backpackers going on pub crawls in the evening, I thought to myself: why not go on a coffee crawl instead?
That's what I did the other day and I compiled this list of 5 coffee shops I enjoyed the most in Belgrade, Serbia. These cafes are suitable for co-working, with good wi-fi, pleasant interior and great coffee to keep you going for hours.
1. Aviator
The strength of this coffee shop is the ambiance: it's cosy, lights are slightly dimmed — although you can sit by the window for extra brightness — and they have comfortable to chairs for a long day of work. Aviator is part of the Kafeterija group which means you'll also find good coffee here.
If you're an online teacher like me, though, I wouldn't recommend teaching your online lessons here. The music can be a bit loud and the dim lights can make it hard for your students to see you. Usually, I come here to do admin for my online teaching business and then choose a place like the next coffee shop in this list to have sessions with my students.
Address: Gundulićev venac 59a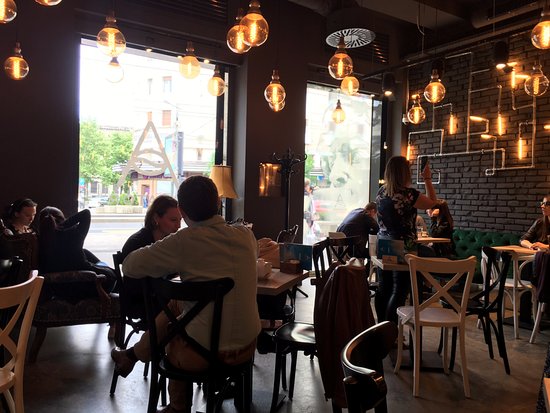 2. Bookastore
This place seamlessly combines a bookshop with a cafe. What I really love about Bookastore is the upstairs mezzanine which closely resembles a homely living room. Buy a book downstairs and read it while sitting on one of their couches or, as I said above, have your online meetings or sessions and take advantage of the privacy and quietness of the upstairs area.
The coffee is decent but it seems like they're more focused on the bookstore side of the business than on the coffee shop. So if you just feel like having great coffee and don't care too much about ambiance, I'd recommend the next coffee place in the list instead.
Address: Cara Lazara, 12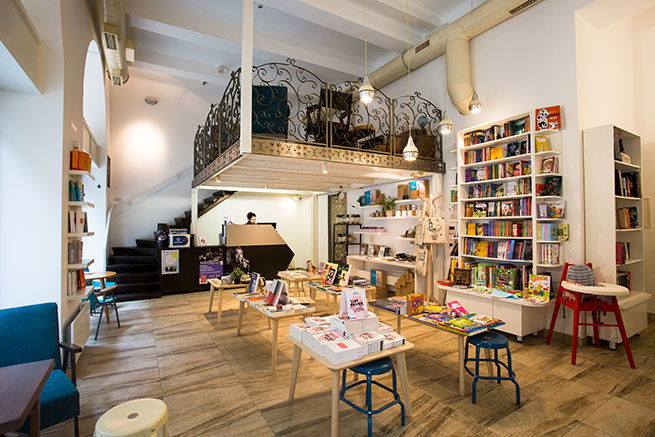 3. Užitak
This small cafe is on the other side of Belgrade's central area — in relation to the other cafes listed here — and it isn't so much a place I'd recommend for working. However, Užitak makes for the perfect stop for a break. I came here after a few hours of heavy mental work and sitting down in their warm inside area and drinking their superb coffee — definitely the best one from this list — was the boost I needed to continue my work day.
The colours are attractive and the decor is very appealing, but I'd say the furniture wouldn't be so appropriate for long hours of work. The next coffee shop in this list would be more suitable for an 8-hour work day, but Užitak is definitely a good option to take a breather and enjoy amazing coffee.
Address: Hilandarska, 4
4. Kafeterija - the big one
Kafeterija is actually a group of coffee shops in Belgrade but this particular one on Kralja Petra street is the queen of all coffee shops. They have three floors which is great if you're like me and likes to move places after a few hours of work. The top floor features a large co-working table (from which I'm writing as we speak) where you'll find fellow digital nomads and remote workers.
As mentioned, coffee at a Kafeterija branch will always be great and this has become my go-to coffee shop in my 2 months — and counting — in Belgrade. If you want something with a bit more character, though, definitely check out the final coffee shop in this list!
Address: Kralja Petra, 16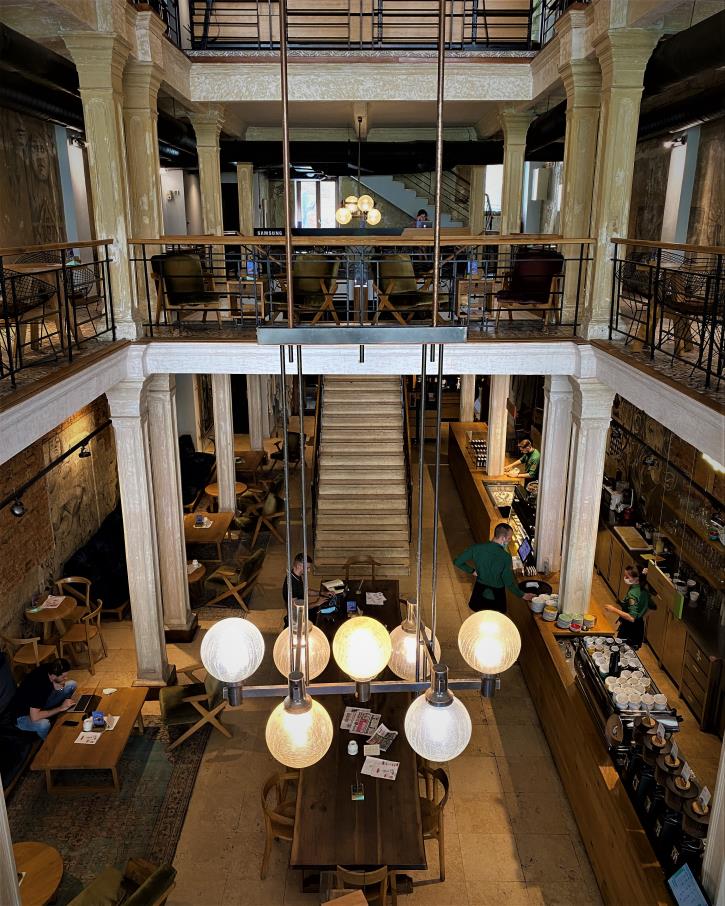 5. Leila Records
It was the end of my coffee crawling day, I was done with work and just needed to wrap up the day and leave everything ready for tomorrow. As a music fan, when I found out there was a coffee shop in Belgrade which also sold vinyl, it was a no-brainer. Leila Records is many things: it's a cafe, a record shop, a bar, a venue for events and an art gallery. And that's why it's so versatile.
I finished my work day with a glass of wine here but you could easily make use of their private area upstairs to do some "real" work during the day. I've also been here with friends for drinks in the evening. Regardless of the occasion, if you just love to be surrounded by music and art, Leila Records is definitely for you.
Address: Gospodar Jevremova 6